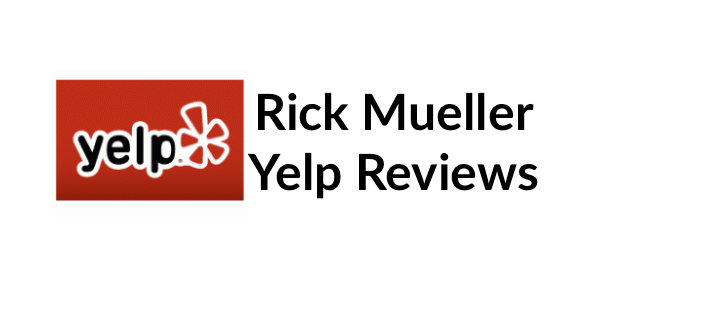 Tim A. – 8/8/2019
*   San Diego, CA
*   298 friends
*   1 reviews
5.0 star rating
Rick Mueller has made this process extremely easy for me. Especially since dealing with multiple stressful things at one time in my life. It's been nice to know someone actually cares to help people who have no idea what to do when it comes to this kind of thing. I feel lucky to have had Rick Mueller as my attorney in this case.
G.U. – 8/7/2019
*   San Diego, CA
*   0 friends
*   1 reviews
5.0 star rating
I highly recommend Mr. Rick Mueller. He is very calm, compassionate, and experienced. He answered all of my questions and told me exactly what to do. Follow his advice and you cannot go wrong. I'm beyond satisfied with his services.
Valentin G. – 7/11/2019
*   Norco, CA
*   0 friends
*   1 reviews
5.0 star rating
This was my first experience with any lawyer and I wasn't to sure if it was the right move but I went threw it because I thought it would be the best chance I had and I'm so glad I did. As soon as I contacted Rick about my dui he sent me a lot of information and told me things I could do with out even asking me for a payment of any kind, until my actual court date. He answered all the questions I had no matter how many times I asked or when. he always responds super quick and was always straight forward. He was also able to get all my charges dropped. The only reason I wouldn't use rick is because I'm not planning on getting another dui.
Clark B. – 7/3/2019
*   San Francisco, CA
*   0 friends
*   1 reviews
5.0 star rating
There is only one thing I can say.  Rick IS THE MAN.  If I could give 10 stars I would.  He has years of experience, is very professional and has your back in your time of need.  I highly recommend Rick because quite frankly he gets the job done and at a very reasonable price.
S E. – 7/3/2019
*   San Fransisco, CA
*   0 friends
*   1 reviews
5.0 star rating
This is my first Yelp review and I signed up specifically to leave a review for Rick's fantastic services. After everything he helped me with, I felt compelled to write this review so people in similar situations have an idea of the immense support and competence Rick has to offer.
Over the course of the last 3 months, Rick was there for me every single day, guiding me through the process, explaining every detail in a very comprehensible way and representing me to get the very best outcome possible for my DUI with a BAC almost double the legal limit. Even being out of town for his son's graduation did not stop him from responding to my emails and providing legal counsel.
I was impressed by all the small details and little tricks he knew about, especially important during the first couple days after the incident. His insight and the tips he provided were crucial during this time sensitive moment, that was how I was able to get a duplicate DL for the one the Officer had confiscated, allowing me to get back on the road immediately. Other lawyers I had interviewed never mentioned any of those things, one more sign that Rick really knows his stuff and cares for his clients' best results, not just the money.
He helped with recommendations regarding all the extra requirements as a result of the DUI (e.g SR-22 insurance, IID provider, etc.).
San Diego, being basically a huge college and military town, has incredibly strict DUI laws. Considering the circumstances, I had a very favorable outcome and Rick was able to negotiate heavily in my favor. For example, instead of heaving to deal with an IID for 1 year, I am now only required to have it installed for 6 months.
The probational period was reduced to 3 years instead of 5 and I don't have to attend a MADD program, nor do I have to have a SCRAM device around my ankle. In addition, I was required to only do 3 days of public service.
To everyone who is going through a similar situation, I can highly recommend Rick and his expertise. His fees are very reasonable and you will not regret hiring him. He provides excellent service and peace of mind in a situation that can take a huge toll on you.
Pablo R. – 3/31/2019
*   National City, CA
*   32 friends
*   1 reviews
5.0 star rating
Rick Mueller is an amazing attorney. While being active duty he took care of my case and I didn't have to show up to court Until I had to pay the fines. Look no further and call him if you have any charges for a dui. I should have gotten a much harder sentence but having Mr.Mueller on my side helped me and I was able to avoid  worse consequences. I have learned my lesson and I hope I never have to use Mr.Mueller services again but in the unlikely case I do, without hesitation he will be the first call I make. He is very professional and always responds quickly. He will take any doubts you have and answers all your questions.
John O. – 3/20/2019
*   El Cajon, CA
*   34 friends
*   27 reviews
5.0 star rating
"Rick did a great job for me. He was very thorough and was on top of everything. He continually kept in contact with me throughout the process and kept me informed of each step of the way. I was very worried about the process and the outcome but Rick took care of everything for me. I would highly recommend Rick to anyone who needs a good attorney."
GR. – 01/17/2019
*   Saint Petersburg, FL
*   0 friends
*   2 reviews
5.0 star rating
"I recently hired Mr. Mueller to represent me in a DUI case. I am very happy and immensely satisfied with the services he provided and with the outcome of my case. Mr. Mueller clearly explained everything to me of what to expect and possible outcomes from a DUI charge and essentially took care of everything such that I never had to appear in court. All I had to do was follow his instructions and patiently wait for my case to make its way thru the court system. With completion of the case, at that time was the only time I had to show up at the court house to resolve court fines and assessments. I hope I have learned my lesson, and never ever need the services of Mr. Mueller again but in the unlikely event that I do need his services again and/or know of someone else who will need his services, I will definitely look him up again or refer them to him."
Antonio N. – 01/10/2019
*   Saint Petersburg, FL
*   277 friends
*   1 reviews
5.0 star rating
"When I say Rick is the lawyer you want, I mean it. He kept it real with me since the beginning, helped me keep my license, extended the case, and always, always responded with quickness and with facts. Anybody out there that has found themselves in this kind of situation, please know that Rick will do his best for you to have the best outcome possible. Can't thank this lawyer enough."
Dathan D. – 01/07/2019
*   Saint Petersburg, FL
*   277 friends
*   1 reviews
5.0 star rating
"The Amazing staff at San Diego DUI were amazing! Every step of the way was communicated and more importantly comforting, just to know that they were here for me. I dont want anyone to go thru this but, if you find yourself in a situation that needs amazing legal help, the staff at San Diego DUI are there for you!"
Michael C. – 12/1/2018
*   San Diego, CA
*   0 friends
*   2 reviews
5.0 star rating
"Great DUI Attorney! Helped me through a lot since my second DUI, once I started panicking. He was the first that popped in my search. Did little to no research and he is great. Easy to talk/email, friendly and kind. He will meet your expectations. He dropped my 90 days in jail to a 48 hr. Great guy no questions asked. Still have a long journey ahead but he made it easier. two thumbs up!"
Henry C. – 9/20/2018
*   Dearborn, MI
*   0 friends
*   1 reviews
5.0 star rating
"Rick Mueller is the best D.U.I. attorney or criminal case attorney at that matter I've ever come across. If you send an email, he sends one right back in response. He is on top of things to get it done and fast. He fights like I have never seen an attorney fight for people, even when they have an almost impossible chance of getting things made better for you. I would recommend him to anyone with a D.U.I. case hands down and he a great person to talk to. Very respectful and respectable."
Brenda D. – 8/13/2018
*   San Diego, CA
*   254 friends
*   4 reviews
5.0 star rating
"I'm writing this review to express my gratitude and appropriately acknowledged ALL of the work that Rick has done, and is STILL actively doing for my case.
I got my DUI the same month I moved from San Diego back to my hometown of Bakersfield (which is a 4 hour commute). I was so stressed out about the repercussions of what a DUI entailed, given that it was my first brush with the law, but Rick has been so attentive and professional. 
In the midst of all the court dates and moving from one city to the other, we received the news that my mother has Stage 4 Cancer. As timing for this type of news is never appropriate, one can imagine the weight that Rick's lifted, not only off of my shoulders, but off of those of my fathers. 
He's competently handled everything so well, he's given my family and me the peace of mind to allow him to take the reigns so that we can direct all of our time and energy in battling cancer. 
As a result, my driving privileges have remained intact during the whole process and my charges were dismissed to that of a lesser charge. Talk about the best possible outcome! 
I definitely would encourage anyone looking into an experienced and successful attorney to move forward with Rick!"
Will W. – 7/27/2018
*   San Diego, CA
*   0 friends
*   4 reviews
5.0 star rating
"After I got my DUI (severe DUI), I was probably like many of you and was anxious, worried and didn't want to lose my job over this stupid mistake.  After reviewing other attorneys in the area, Rick was the attorney I needed.  His price is very reasonable for all that he did for me.  I didn't have to go to court or handle the DMV.  Rick handles all of that for you.  Rick sent me all forms, via mail or email, and he explained all my options.  He was available anytime for all questions I had and kept me well informed of all documentation and due dates for everything I needed to do.  Rick fought for me in court and -HE KEPT ME OUT OF JAIL!!  I was definitely going away if not for him.  Now I can continue to work and be home every night while I handle paying back my debt to society.  The peace of mind Rick provided for me during my process made all the difference."
Alondra A. – 7/26/2018
*   Anaheim Hills, CA
*   0 friends
*   4 reviews
5.0 star rating
"I work with many attorneys… However Rick is one of a kind, he is very knowledgeable and takes really good care of his clients. He is ethical and professional and knows what he is doing. I enjoy working with him on a daily basis; by the time his clients call me they know exactly what to do and where they stand. His virtuous work is priceless :)"
Mike H. – 6/21/2018
*   Escondido, CA
*   0 friends
*   4 reviews
5.0 star rating
"I had spent some time researching which Lawyer I felt would be the best for my case, and I am very pleased with decision as it was the best one I could have made. Ricks immediate and direct communication is very satisfying, answered every question with very quick responses that were very helpful, refreshing and reassuring.  He was already giving helpful advice with my case when I inquired about the fee's which can't be beaten for his level of experience and expertise.  Step by step I was informed of any / all next actions to take which for the most part wasn't much since Rick literally takes care of everything and immediately informed me of any updates once there were.  All charges were reduced to the bare minimum, penalties reduced and on track to get everything expunged once the short probation period is over as I had hoped would turn out.  It was rather comforting knowing that everything was being taken care of without much needed on my part and the entire process was handled seamlessly.  Thank you so much Rick I will definitely recommend you to anyone I know that would need a top notch lawyer for their DUI case"
Huo P. – 6/20/2018
*   Los Angeles, CA
*   0 friends
*   1 review
5.0 star rating
"I was arrested on suspicion of dui in san diego and had the task of reviewing every attorney in San Diego that specializes in dui cases to obtain the best defense in court After hours of reviewing multiple attorneys I came to Rick Mueller's page. I did my diligence on researching his work and even checked the state Bar of California web page. My final investigation revealed he was the best attorney for my case. He was able to get my charges dropped in exchange for a reckless driving vc. and got me the best deal possible."
Ayana S. – 6/11/2018
*   Oceanside, CA
*   0 friends
*   1 review
5.0 star rating
"After contacting a few lawyers… I immediately knew Mr. Mueller was the one for the job. This was my first DUI offense and saying I was lost as far as how to proceed further, was an understatement!! From day one, he gave me the confidence and professionalism I so desperately craved at that point! He sent an ample amount of information I was able to read at my leisure rather than him just spewing a bunch of technical law terms I would not be able to understand.
Together we were able to gather all the necessary documentation to present a solid case! I would highly recommend Mr. Mueller if you catch yourself in a less than honorable situation, as I did. I can't thank him enough for the final outcome of my case! Lesson humbly learned!!!"
De'Onte H. – 5/16/2018
*   San Diego, CA
*   0 friends
*   1 review
5.0 star rating
"Great Man , Great Service At A Great Price .! Mr Mueller Did His Best .!"
Juliana B. – 5/16/2018
*   San Francisco, CA
*   0 friends
*   1 review
5.0 star rating
"Rick Mueller was my attorney and I was so impressed at how he handled my DUI case. With his help I received the lightest possible sentence and the best outcome which exceeded my expectations. He was always very responsive and professional. I highly recommend Rick!"
Art A. – 3/26/2018
*   San Francisco, CA
*   0 friends
*   1 review
5.0 star rating
"I highly recommend Rick Mueller to anyone in need of an outstanding DUI attorney. Rick handled every aspect of my case seamlessly, from start to finish. I did not have to attend any of the court hearings and he did an excellent job of keeping me consistently updated through each step of the process. He is always reachable and extremely responsive and communicative. He made an otherwise difficult situation much better, due to his professionalism and kindness. He truly cares about his clients and their well being."
Stephanie S. – 2/15/2018
*   Springfield, MA
*   106 friends
*   4 reviews
5.0 star rating
"I met Mr. Mueller July 2015 after a DUI arrest and charge. My aunt recommended him for the same charges. I thought my life was over since I worked a great job which I lost due to the DUI. After working with Mr. Mueller, I was able to get a lesser charge and my license reinstated resulting in getting a better job. Since that day, I've continue to work with Mr. Mueller who has assisted with DMV and a huge amounts of resources and business connection. The amount I paid him was beyond reasonable compared to other lawyers. I was able to make payments which worked out great. If you need his assistance, reach out to him. He is prompt and knowledgeable. You may find other lawyers who do the same but promise that if you choose him, he will not disappoint. I wish you the best and know that with Mr. Mueller you are in trusting hands."
S S. – 9/25/2017
*   San Diego, CA
*   0 friends
*   3 reviews
5.0 star rating
"Are you unsure what to do?  
Will I have to go to jail?  
Am I going to go broke? 
What will Happen Next? 
Do I have to go to court all the time? 
Can I call or contact you anytime? 
Can I afford a Good Attorney?
Can I defend myself with the same result? 
If you answered yes to one of the above call The San Diego County DUI Law Center. Mr. Muller is and was stellar in the handling of my offense and the extenuating circumstances resulting from it. Mr. Muller is always above board, clear of his expectations from himself and his client, respects all needs and concerns of his client and offers legal service beyond expectations."
Javier C. – 8/3/2017
*   San Francisco, CA
*   0 friends
*   1 review
5.0 star rating
"Rick Mueller was an excellent lawyer. He gave me facts and helped me with any questions i had. I was given honesty and straightforward answers. His experience surely shows when he takes a case and how he handles it."
Kevin B. – 7/3/2017
*   San Francisco, CA
*   0 friends
*   1 review
5.0 star rating
"Very professional and reliable. He has gotten me the desired outcome and I am extremely grateful. If you're looking for an attorney this is the man to go to."
Walid D. – 5/9/2017
*   El Cajon, CA
*   149 friends
*   5 reviews
5.0 star rating
"Hiring Rick Mueller as my attorney was the best decision I have ever made! At first, I was debating if I should hire him or the cheaper lawyer but THANK GOD I went with my gut and chose Rick! He displayed professionalism and would notified me with any news regarding my case. He represented me for both of my court dates and did very well handling my case! Saved me a ton of money! 
I will for sure recommend you to anyone I know that needs a smart and genuine lawyer regarding this matter. 
5 STARS FOR SURE!"
Carder R. – 5/8/2017
*   Santa Monica, CA
*   88 friends
*   6 reviews
5.0 star rating
"Rick took my case head on from the moment I requested his services.  Along the way he provided me with the essential information I needed to make the process stress and worry free.  Whenever I had a question or needed clarification Rick always responded promptly and helpfully. As my case came to a close he was incredibly reassuring in covering each step."
Cindy L. – 5/4/2017
*   San Diego, CA
*    12 friends
*    1 review
5.0 star rating
"Incredible service and great results. He always provided me more than enough information and responded to questions and concerns immediately. I felt protected, informed and extremely well represented – and the end result was better than I could have expected!!"
Eduardo G. – 3/15/2017
*   San Diego, CA
*    0 friends
*    1 review
5.0 star rating
"Rick worked diligently throughout the case. I never appeared in court, he was able to convert my DUI charge to a reckless driving. It saved me thousands of dollars, no Sr-22 only 12 mandatory classes and the fine was reduced to only $800 dlls. I will still go and try to expunge my case when it over and he will be my attorney for this. Very professional, highly recommend."
Anthony H. – 9/22/2017
*   San Fernando, CA
*    0 friends
*    1 review
5.0 star rating
"Rick was always by my side in a very troubling time in my life. He got my case dismissed! His years as an attorney are apparent in his work. Highly recommend Rick."
Peter L. – 6/6/2017
*   Vista, CA
*    8 friends
*    4 review
5.0 star rating
"Rick Mueller is a top of the line DUI lawyer.   He knows every nuance of DUI law and fights for every advantage for his clients.   He is very well known and respected by the judges and prosecutors."
Kristen W. – 5/5/2017
*   Escondido, CA
*    0 friends
*    20 review
5.0 star rating
"I found Rick Mueller 12 yrs ago when needing his help in a DUI case.  He is extremely knowledgeable in his practice and fights for you to the end.  I have referred him as well and those whom I have referred him to have been very happy with his help and work in practicing DUI defensive law.  I have found myself in a situation needing Mr Mueller's assistance and expertise, I must say he truly cares and is concerned with his clients.  I highly recommend him to anyone finding themselves with a DUI case.  Great job and thank you for everything in all you do for your clients!"
Anush S. – 3/17/2017
*   San Diego, CA
*    1 friends
*    2 review
5.0 star rating
"An absolute professional in every sense of the word. Rick kept me updated, informed, and kept me calm awaiting my case. The result was better than I could have ever expected, Rick Mueller is the voice you want representing you in court, a complete master of the law. Caught in a trick? Better call Rick!"
Daniel C. – 2/8/2017
*   San Diego, CA
*    0 friends
*    1 review
5.0 star rating
"I just got my first DUI 3 months ago, I was very hesitant to get an attorney because my case seemed pretty cut and dry. After I did about a weeks worth of research I decided to go with Rick and I am so grateful that I did! DUI's are very overwhelming but hiring Rick took a lot of the weight off my back. He was great throughout the entire process, taking care of all of the court dates and DMV hearings on my behalf so I did not have to miss any days of work. He kept his word, did not try to BS me told me everything straight which I really appreciated. He did great for me, as I'm sure he does to all of his clients. If ever in need, don't forget the name RICK MUELLER!"
Ryan A. – 12/6/2016
*   Fairhope, AL
*    0 friends
*    1 review
5.0 star rating
"Rick guided me through a very challenging process- he was readily available for questions, responding quickly and provided excellent overall service.  Very straightforward and easy to work with.  I highly recommend Rick!"
Anthony G. – 11/9/2016
*   Anthony G.
*   Redding, CA
*    0 friends
*    1 review
5.0 star rating
"I'll be honest after reading all Mr. Mullers reviews I couldn't help but think he was to good to be true, that is of course until i actually hired him and realized he was even better than i could have ever hoped. With only a 2 day notice before my court hearing Mr. Muller worked non-stop getting all the paper work and evidence he needed in order to get my DUI completely dismissed. He had a clear and in depth understanding of the law as well as a willingness to go the extra mile, i could tell i wasn't just another check in his pocket but rather an individual who needed help. His dedication was far beyond what could be expected of him even after the case was over he continued to help me get the paper work and information i needed. I am very grateful that i was lucky enough to run across Mr. Muller when i did and although i hope to never need his services again i will continue to keep him in mind and recommend him to anyone needing a great lawyer."
Joe A. – 8/26/2016
*   Poway, CA
*    0 friends
*    1 review
5.0 star rating
"Rick is a great lawyer and looks out for his clients. Even though my initial result wasn't what I hoped for he was there for me when I needed him, saved me a lot of time, and even followed up afterwords to help with expunging my record. I fully
Harry V. – 4/21/2016
*   Irvine, CA
*    9 friends
*    24 reviews
5.0 star rating
"I highly recommend Rick Mueller as the Professional you need to get things done.  I had a case that dragged-on due to the incompetency of the court's process and their lack of organization.  Rick continued to perform his due diligence, and eventually obtained my expunged case.  In reality, I just provided Rick the required information, and he informed me of my case status throughout the process.  And, before I knew it, Rick successfully accomplished what we set out to do.  I tend to speak in short, because I'm a busy guy.  Rick did not waste my time.  Let him worry about your case, so you can continue to focus on productive things."
Patrick O. – 2/19/2016
*   Solana Beach, CA
*    0 friends
*    10 review
5.0 star rating
"Rick was quick to the rescue.  I highly suggest Rick Mueller if you find yourself in the unfortunate situation of having to deal with with a drunk driving defense or driving under the influence.  He was easy to work with and we are very grateful for his service."
Robbie H. – 1/15/2016
*   San Diego, CA
*    77 friends
*    1 review
5.0 star rating
"Rick Mueller is the attorney you want on your side.Rick helped me more than I can express in words. He works extremely fast on your case and will fight to get the best possible outcome and the best thing is he is always available to communicate with. When I was out of the country he always responded and was easy to talk to. He will save you an abundance of money and will always go to bat for you. I HIGHLY recommend him to anyone that needs an attorney !!!"
David W. – 12/9/2015
*   Winters, CA
*    0 friends
*    3 reviews
5.0 star rating
"First and foremost Rick Mueller is amazing. From the beginning he laid everything out and was up front and honest about everything. I was out of country when my now wife, got a DUI in San Diego. I shopped around and found Rick. He was very reasonably priced and again, up front about everything. No false hopes or misguiding information, and very knowledgeable. When you retain Rick you have someone that cares. As I stated earlier, I was out of country and my wife had moved out of state shortly after the DUI, Rick did everything with out either of us having to show up in court. Most, if not all, communication was done by email and his response time is out of this world. His average response time with an answer is the fastest I have ever experienced. He was able to get my wife's sentence reduced since this was her only DUI. After 2 years, we needed help to reduce/terminate probation and there he was. With out skipping a beat, as if it was just yesterday, picks it up and worked his magic to get what we needed. Overall if you are looking for someone to represent you and your interest, search no further. Rick Mueller is the man for the job.  I do not have enough good things to say about this man. THANK YOU RICK, we are forever in your debt."
A N. – 11/2/2015
*   San Diego, CA
*    0 friends
*    2 reviews
5.0 star rating
"Rick Mueller has been great from the beginning.  I was rather impressed by the abundance of communication that I received from him. He was available by email/phone/text any time that I needed him.  His response time was OUTSTANDING!  I also want to emphasize that the responses were genuine and from HIM, not from an assistant.  We are nearing the end of my case and he was able to get my charges reduced and help me avoid jail time.  I have never had so much as a traffic ticket in my adult years and this was a very scary situation for this mommy of 2.  I appreciate the work he put in to my case and for making me feel like I was important and not "just another case".
Thank you!"
Hector L.- 10/31/2015
*   San Diego, CA
*    0 friends
*    1 review
5.0 star rating
"This was my first DUI and I was scared to lose my job. I was referred to Rick by a friend, I absolute do not regret calling him, he constantly kept me updated on my case, and his prices are very reasonable. Thanks to his hard work and commitment I was able to reduce my DUI to a lesser charge. Thanks Rick."
Sylbourn S. – 6/11/2015
*   Spring Valley, CA
*    0 friends
*    1 review
5.0 star rating
"A man of his word.
Couldn't have asked for and got a better lawyer, Rick fought my case every step of the way, Communication was clear and readily available at ALL times, the thing I remember the most is he said to me "not to worry I'll fight for you" and so he did, thanks Rick."
Jay J. – 3/31/2015
*   Jay J.
*   San Diego, CA
*    7 friends
*    9 reviews
5.0 star rating
"Rick Mueller does one thing for you – he fights. With his knowledge and expertise in the DUI/ DMV field, he was able to get my case completely dismissed. If you're going to get an attorney, I can't vouch for Rick enough."
Js L. – 1/24/2015
*   San Diego, CA
*    0 friends
*    3 reviews
5.0 star rating
"Mr Mueller is a lawyer who would try every possible ways to help your case come out better. When i was first charged with DUI, I was very stressed and scared, but Mr. Mueller stayed with me until my case came out better. I felt very secured to know that he was always there fore me during the process.  i am now satisfied and feel at  ease. In terms of communication, he is very prompt and responsive. He is very realistic and does not give any false hope. He always kept me informed of the situation and how he was going to protect my rights. Retaining Rick Mueller is the best way to help yourself if you are in trouble like me.  He will not let you down but help you!"
Manada P. – 11/3/2014
*   San Diego, CA
*    0 friends
*    2 reviews
5.0 star rating
"I contacted Rick Mueller through a friend email recommendation. Even though I was suspicious at the beginning because I'm not American, I can't be happier now. After almost 3 years since he dropped my DUI case to reckless driving, he still answer my emails concerning my green card application.
As I said, I can't be happier with my choice."
Tee Patel – 10/21/2014
*   San Ysidro, CA
*    0 friends
*    1 review
5.0 star rating
"I got a DUI in san diego, number # 3. From what everyone told me it was looking pretty bad, Rick was able to work his magic and help me at my worst time. DUI's can cripple a person, financially and mentally. Rick was there for me at every step of this process in my life and will be in the future. I chose Rick because he was very quick to reply and he was very clear and the cost and the things that I would have to do to comply and get through the process. I will recommend Rick to anyone who goes through this flat out he is experienced and well rounded in this matter. If you are willing to do what he tells you, you will not go to jail and you will get through it. Hands down in a field where people promise a lot of things Rick Mueller flat out delivers. He is not only my lawyer but now a friend for life!!!!!!!!"
Jake N. – 10/4/2014
*   Carlsbad, CA
*    0 friends
*    1 review
5.0 star rating
"Rick was amazing! He got me the best possible outcome, while allowing me the ability to continue driving & he even got my two day community service dropped. He ALWAYS responds within minutes via email & is worth every penny! I would strongly recommend him to anyone."
Erik W. – 7/28/2014
*   San Diego, CA
*    0 friends
*    1 review
5.0 star rating
"If you, or a loved one, are in need of legal representation due to a DUI charge, I cannot recommend George (Rick) Mueller and the San Diego County DUI Law Center enough. Thorough, experienced, patient, and completely professional. All questions and concerns are answered immediately. The DUI process, both the DMV and Court sides, is lengthy, stressful, and at times disheartening. Mr. Mueller will help you get through it while at the same time providing the best advice and strategy for your particular case. You will not be disappointed."
P. M. – 8/21/2013
*   San Diego, CA
*    0 friends
*    2 reviews
5.0 star rating
"Rick Mueller is everything I wanted in an attorney.  Knowledgeable and experienced (28 years).  He teaches other attorneys.  Trustworthy. He does what he says he's going to do.  Mr. Mueller outlines a step by step event calendar and itemizes responsibilities of client and attorney so you know what to expect. A good negotiator.  My fine was minimum and charges reduced.  No jail or community service.  Rick Mueller provided great support. Rick was always willing to answer questions and concerns- almost immediately.  Quick to provide updates.  I highly recommend Rick Mueller.  He's an expert who will go to bat for you."
Gordana C. – 6/6/2013
*   San Diego, CA
*    0 friends
*    1 review
5.0 star rating
"One of my girlfriends told me about Rick. She did extensive research and he was amazing in her DUI case. I trust my girlfriend so I gave him a call. Right away he took action. Without Rick, I would have not known what to do. He gave me step by step instructions every step of the way. He answered all of my questions as soon as I asked him no matter how minor they were. I'm so glad to have found him and will recommend him every time. The best part is that I did not have to go to court and feel humiliated, he went for me. It's an embarrassing charge, then being arrested. I never thought I would go through that in my lifetime. I should have known better not to drink and drive but we all do make mistakes. The end result is that Rick had my DUI charge reduced. I am so grateful."
Janice R. – 4/30/2013
*   San Diego, CA
*    32 friends
*    5 reviews
4.0 star rating
"Rick and his team are/were great. His knowledge about California traffic laws and the court system was invaluable and he knows the options and how to reduce/dismiss the best way possible. He's the man when it comes to violations. Fast, friendly and effective. Given the results, I must say that I feel the fees I paid were reasonable and very well spent 🙂 You worked as advertised and I would confidently refer you, should a need arise. I will recommend him to all my friends, co-workers and family! Thank you very much Rick!"
recommend Rick Mueller."
Jaiden K. – 3/23/2013
*   San Diego, CA
*    0 friends
*    3 reviews
5.0 star rating
"Rick Mueller is the best DUI attorney out there. Retain him and pay him, he is well worth it. The very first day I emailed him, he replied right away. since than he became my friend in a sense. I never met him , but became very close to him. he is a great guy at heart. Rick Mueller will take care of you. He is very honest , cheerful guy. I promise he will not let you down. Rick Mueller got me a deal that was unheard of! throughout the process of the court dates , Rick would calm me down when I was real stressed out and answered all my questions ASAP. Everybody that heard my 3rd DUI story couldn't believe the outcome of it!I did not have my license suspended, I did not have to complete an expensive DUI alcohol program, I did not have to pay a high fine, and I did not feel like I was treated like a criminal. if you want a good result , go to rick Mueller! He is a very hard worker and is determined. I love rick Mueller! 5 stars!"
Dan M. – 6/15/2012
*   San Diego, CA
*    0 friends
*    1 review
5.0 star rating
"After getting charged with a DUI, I didn't know how to handle it and was more than a little scared.  That disappeared after getting in touch with Rick. After a lot of online research I saw that he had a great reputation and top tier experience.  And a few minutes on the phone, I knew he was someone I could trust.  From the get-go he took charge and made me well aware of what was going on before the courts did and responded to all my questions on the day I asked them. Another huge help for me was his willingness to allow me to pay in installments, which was big. With his help we we're able to get a great deal given the facts of the case, and he fought for me every step of the way. I'd definitely recommend Rick to anyone in need of legal help in their DUI matters."
Ben C. – 12/4/2011
*   Los Angeles, CA
*    0 friends
*    1 review
5.0 star rating
"Attorney Rick Mueller defended me on a first offense DUI charge with added complexity (accident, high BAC).  Rick Mueller is a lawyer in the great American tradition of representing citizens when bad things happen against an at times over zealous justice system.  He was at all times – day, night, weekends – available and responsive.  Rick's expertise and attention to detail helped me get the best possible outcome.  If you are reading this review you are looking for a lawyer to help with your case.  First, you must have a lawyer don't even think about defending yourself.  Rick Mueller is the best in the field.  This is probably one of the most important decisions you will make and I hope my experience helps you make it.  Look no further, talk to Rick now!"
Phil M. – 10/19/2011
*   Los Angeles, CA
*    0 friends
*    2 reviews
5.0 star rating
"Rick Mueller is a fantastic DUI lawyer.  I was stopped for a routine speeding ticket going 9mph over the speed limit as I was driving through San Diego on my way to New Mexico, driving through the night. The officer asked if I had anything to drink, probably because it was 1:30am.  I had previously stopped and had dinner with friends and had a couple of beers with my dinner, but it was several hours earlier.  Anyway I was honest and said that I had 2 beers much earlier in the evening.  That was enough for him to pull me out of my car and go through the process of arresting me for DUI.  My BAC turned out to be .06, less than the legal limit of .08, but this was my 2nd arrest for DUI and I was still on probation for the 1st one.  (Unfortunately I deserved the first DUI but had been very careful not to drink and drive since then.)  Being on probation I was not allowed to have any measurable amount of alcohol in my system, so they put me in jail for the night.  I called my previous lawyer in northern CA and he recommended Rick.  I am so glad he did.  Rick is very responsive, very efficient, his fee is very reasonable, and he really knows how to defend anyone being arrested for DUI.  He was able to negotiate a plea bargain that got the DA to drop the DUI charge in exchange for a reckless driving – alcohol related charge.  So, I didn't have to go to jail, or be put on trash detail, or public work program, or community service, or volunteer work.  I didn't get a 2-year suspension of my driver license that usually happens from a DUI conviction, nor have my Vehicle Impounded or be required to install an Ignition Interlock Device.  My fine was less than half of the normal $2539+ DUI fine.  I did have to pay a fine and take the 12-hour education class, but considering what could have happened I felt that he got me a great deal.  Thanks Rick, for being the best lawyer I could have had."